This is the final installment of Kristine Smith's adventure with her sister, Roz, to see Coldplay in concert and meet them in person. People wonder how Kris was able to win this prize, and truthfully, it was her generosity that made it possible because she donated SO MUCH to the Sutherland Center that it greatly increased her chances of winning. With all she gave, we couldn't have chosen a more deserving winner than Kristine Smith!
Coldplay Adventure by Kristine Smith
I begin at Marlo Farm in Gnowangerup, in the Great Southern area of Western Australia.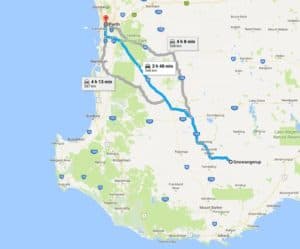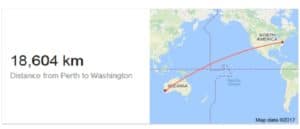 I entered a competition in May 2017 organized by Sutherland Bipolar Center in Colorado that came up on Facebook. Then I set the power of the crystals (given to me by my sister, Roz) to give the positive energies needed to give me the chance to take Roz to Washington, DC to celebrate her 50th birthday with a Coldplay Adventure! (My work colleagues thought I had gone a little crazy.)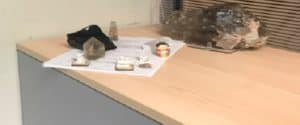 7 July 2017 – Rachel from the Sutherland Bipolar Center rang to announce that I had won!!!!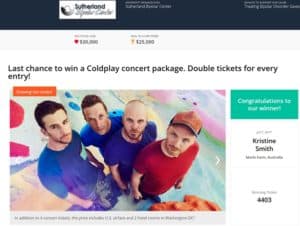 Having never won anything in my life before, I very excitedly rang Roz to say we would be off to Washington to meet Coldplay and go to another one of their awesome concerts.
Our Coldplay Adventure…Wow!
Wednesday, 2nd August. Roz and I waited to board our flight at 11pm.  Butterflies in my stomach, I was not sure whether it was the nerves before flying, worrying whether everything was going to go as planned or the anticipation of meeting Coldplay.
We spent approximately 36 hours in flight and in various airports (Sydney/LA) then another 2 hours waiting for a storm to pass when we landed on the tarmac at Washington DC airport.  I think the last 2 hours was the hardest as were both over sitting in plane seats, knowing there was a nice bed waiting at our Hotel.
We spent a few days exploring Washington before the concert.  It was very warm, and everywhere we went, we heard the sounds of Coldplay being played by the locals, as Washington prepared for the arrival of Coldplay at the Fedex Fields, Redskin's Stadium.
Sunday, 6th August. We arrived at the Stadium at approximately 5:30pm, collected our passes and tickets.  We were escorted by the staff to 'Friends & Family of Coldplay', where we were provided nibbles, food and the opportunity to talk with other fans of Coldplay.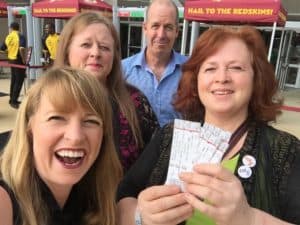 By 8:45pm, we were escorted to another area of the Stadium with a few other groups, and were given instructions that as the band was running behind schedule, it would be a photo opportunity only. After waiting what seemed like an eternity, Will, Guy, and Jonny were in front of us, shaking our hands and welcoming us to their show. I had a chance to thank Guy for assisting in organizing the prize with the Sutherland Bipolar Foundation. Then out of now where, Chris appeared and was reaching across to shake my hand. In that split second I realised it was Chris and pulled his hand back to shake again, saying, "Hi Chris, I am a Kris as well, with a K, not a C…." According to one of my friends next to me, I didn't let his hand go straightaway! This all happened in what seemed like a 'blink of an eye.'  It is a moment in my life that I will remember for a very long time. Chris kept apologizing for being late, then Jonny, Chris, Will & Guy lined up behind us, the photo was taken, and then they moved on to the next guests waiting for their moment. I did appreciate that there were 85,000 fans waiting on the other side of the wall for the concert to start. A very privileged moment indeed!
We were then escorted to our seat (amazing seats) by a nice young man. As I got around the corner from the 'meet & greet' area, I started crying with happiness, excitement and danced on the spot. It was a delayed reaction to meeting the band members. I was so thrilled and could no longer contain my excitement. The gentlemen escorting us to our seats kept asking if I was okay and did I need a deliberator! Very cheeky! I said no, it was just the most amazing moment in my life, and I wanted to enjoy the happy feeling I was experiencing on the inside. This was the moment I realised I was the 'crazy happy fan' and all others were watching me. Really, I don't know how the rest of my friends and Roz contained themselves. They all said they were happy on the inside.
We missed the first 5 minutes of the concert and were shown to our seats with the entire crowd up and dancing. When we found our allocated seats, all the fans around us where dancing, so I joined in and made a few new friends with my happy fans around me. I enjoyed every moment, every second of the concert and shared my experience with the fans next to me. Once they found out I had met the band and had shaken their hands, about 6 or 7 of  them wanted to touch my hand.  A very proud moment.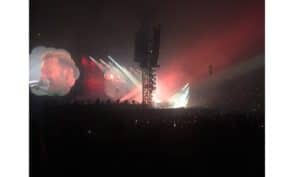 It was a 2 hour concert, however I enjoyed it so much, it seemed like time disappeared too quickly. Once it was finished, the lights came on, and I was exhausted from dancing in the Washington DC heat and among so many people. Wow what a memory.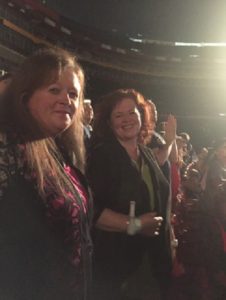 Now, I am back in Perth writing this for Rachel and the Foundation's next newsletter. I have told the story quite a few times for all my friends. The memories still very clear in my mind, dreaming of the next concert and very happy that the signed guitar has arrived.
A BIG THANK YOU TO RACHEL & ALL AT SUTHERLAND BIPOLAR CENTER FOR CREATING SUCH A MEMORABLE COLDPLAY ADVENTURE.
As per the lyrics of Coldplay's A Head Full of Dreams, "leave your broken windows open and in the light just streams and you get a head, a head full of dreams…."
Take care and warm wishes,
Kris & Roz, Marlo Farms, Gnowangerup, Western Australia, August 2017