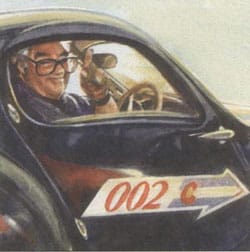 Welcome to RDSFoundation.org.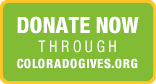 My father, Robert D. Sutherland, was a successful businessman with broad interests and many friends. He was passionate about art, old cars, and philanthropy. He felt fortunate in life and was keenly interested in how to use his good fortune to benefit others. He was a founder of several successful charities, including the Colorado Grand. In addition to this, he also had bipolar disorder. With the help of his friends, family, and good medical care, he managed his illness, living a full life and making numerous contributions to his community.
He was fortunate. Others facing the same illness are not so lucky. They do not recognize or understand the disorder, its symptoms and treatment options. They do not know where to turn for help, and more than half cannot afford to see a doctor or to pay for medication and therapy.
Following my father's death in 1999 his friends and family started the Robert D. Sutherland Memorial Foundation – to continue his legacy of helping others by focusing on bipolar disorder. The Sutherland Foundation is dedicated to improving the lives of people with bipolar disorder and their families through diagnosis, comprehensive treatment, and education.
Bipolar disorder is a debilitating illness. Left untreated, it can rob people of their ability to function in the world. According to the latest estimate from the National Insitute for Mental Health (2008), 2.6% of the population over 18, or one in 40 people, have bipolar disorder. For those living with this illness, the roller coaster ride from mania to depression and back is consuming. Friends and family likewise struggle as they try to help, but too often they are unsure what to do.
Bipolar disorder is a serious and potentially lethal condition, but it is manageable. The battle requires finding the proper doctor who can distinguish this disorder from other mental health issues. It requires the proper medication, and for many, therapy is necessary. The journey to recovery is long and arduous, but it can be made.
Robert D. Sutherland stands as an example of someone who benefited greatly from good treatment. The Sutherland Foundation builds on his commitment to others and to his belief that proper treatment of bipolar disorder improves lives. Please let us know how we can help you.


Choose the
Robert D. Sutherland Memorial Foundation
at
https://smile.amazon.com
and Amazon will donate 0.5% of the price of your eligible purchases. Be sure to start your session at
https://smile.amazon.com
before you start shopping!